Fight Mag Website
Sensei Mike Selvey regularly contributes articles. Free to access, a site for all things Martial Arts

Suppliers of Swords and equipment

For all martial arts goods.

Supplies of fantasy swords as well as Japanese Katana.

Japanese site for all things Iaido

Dai Nippon Butoku Kai (DNBK)

Official website of the DNBK International Division. Link removed by request

Seishin Judo and Iaido
Bruce Scrivens 5th Dan, website for Judo and Muso Shinden Ryu Iaido
Aikido in Norwich
Sensei Steve Fyffe 4th Dan Aikido and Cane master blind from birth studies aikido, cane and Tenshin Ryu Iaido
Yamabushi Yodokan Website
Website link for judo and Tenshin Ryu Iaido
Members of the Tsunami Team at the official DNBK Dinner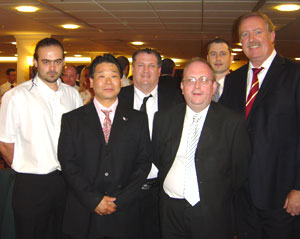 Haruhiko Ochiai Shichidan(7tyh Dan) Kyoshi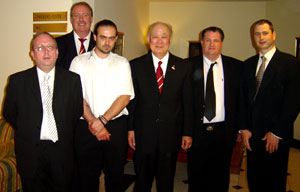 Takeo Nakada Hachidan (8th Dan) Hanshi, Vice President of the Board of DNBK Honbu Kyoto Japan.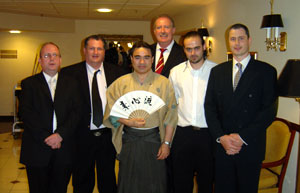 Toshihiro Imoto Sandan (3rd Dan) Toyama Ryu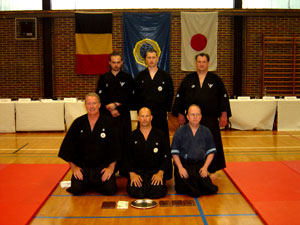 Tsunami Yodokan team with Honours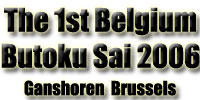 On the 24 th and 25 th of June 2006, the venerable Dai Nippon Butoku Kai held the first Belgium Butoku Sai, this event took place in the suburbs of Brussels, organised by Hanshi Chalmagne, and overseen by Hanshi Hamada head of the International delegation. Six members of our club Tsunami Yodokan (Renshi Mike Selvey Godan, Doshi Geoff Murray Sandan, Doshi Tony Blake Sandan, Doshi Charlie Goulding Yondan, Doshi Glenn Coxon Shodan, and Nick Efreme Ikkyu) were in attendance along with over 330 outstanding Budo practitioners, with 115 Dojos from 22 Nations gathered there to show their skills to the Honbu delegation of Kyoto Japan. The Honbu delegation consisted of Hanshi Nakeda, Hanshi Kuwhara, Hanshi Kumai, Kyoshi Ochiai, Mr. Moisaki, Mr. Koshima, Mr. Kitano, Mr. Asano and Mr. Imoto. Training seminars were held on the 24 th in the Budo disciplines of Kendo, Iaido, and Jujitsu, which were led by Honbu instructors.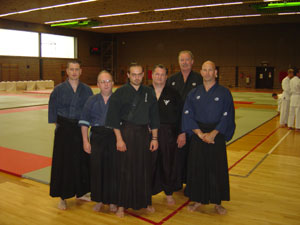 The 25th started with a display from the Honbu delegation in various forms of Budo. This was followed by demonstrations from the attending Dojos. Tsunami Yodokan started with Iaido and Iai Jutsu, followed by a Kobudo demonstration. The day ended with an award ceremony, Tsunami Yodokan was honoured with the following;
| | | |
| --- | --- | --- |
| Award | Martial art | Awarded to |
| | | |
| Dan Tai Doryoku Sho Team award for great effort | Iaido | Tsunami Yodokan |
| Commending performance for Kobudo | Kobudo | Renshi Mike Selvey |
| Club organisation | Iaido | Renshi Mike Selvey |
| Award of great effort | Iaido | Renshi Mike Selvey |
| Award of great effort | Kobudo | Doshi Glen Coxon |
| Award of great effort | Kobudo | Nick Eferme Ikkyu |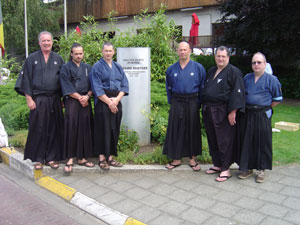 It was commented that the best part of the experience was getting to know people from other countries and being part of an international community. Everyone from Tsunami Yodokan who attended the weekend look forward to seeing their new international friends again and meeting new ones at the next international event, we hope to attend with even more students who wish to experience the feeling of belonging to the premier organisation that is Dai Nippon Butoku Kai. Finally we were very pleased to be personally congratulated on our Iaido by Kyoshi Ochiai, praise indeed. Sensei Mike Selvey 2006.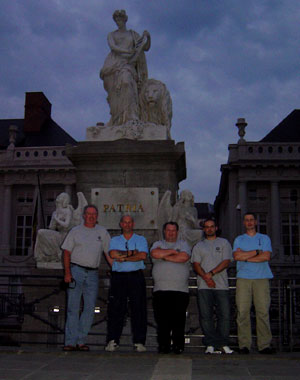 The Tsunami Yodokan team out and about in Belgium. One member of the squad had to be LEFFE back at the hotel..