Fight Mag Website
Sensei Mike Selvey regularly contributes articles. Free to access, a site for all things Martial Arts

Suppliers of Swords and equipment

For all martial arts goods.

Supplies of fantasy swords as well as Japanese Katana.

Japanese site for all things Iaido

Dai Nippon Butoku Kai (DNBK)

Official website of the DNBK International Division. Link removed by request

Seishin Judo and Iaido
Bruce Scrivens 5th Dan, website for Judo and Muso Shinden Ryu Iaido
Aikido in Norwich
Sensei Steve Fyffe 4th Dan Aikido and Cane master blind from birth studies aikido, cane and Tenshin Ryu Iaido
Yamabushi Yodokan Website
Website link for judo and Tenshin Ryu Iaido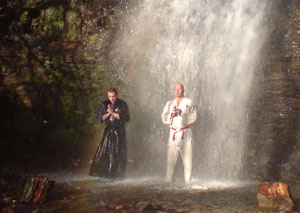 Glenn Coxon 2nd Dan Doshi and Mike Selvey 6th Dan Kyoshi undergoing the ancient Samurai tradition of testing mental strength in extreme conditions.

Yodokan Wales, 17 th October 2006
Tsunami Yodokan, Yamabushi Yodokan and Mushin Yodokan travelled to Newbridge in south Wales to Hanshi Taylor's, Mushin Yodokan dojo. Arriving after a 5 hour journey, we were far too late to do any training.
Saturday it all kicked off with a whole day of training, from 11am till 5pm. After an initial opening ceremony, Harai No Gi, we had a short lesson from two of the teachers in their respective styles; Renshi Emblem teaching Aikido and Renshi Blake teaching Judo. This was followed by a short lunch and then a full Iaido training session, led by Kyoshi Selvey, Doshi Murray and Doshi Coxon. After this there was a short Karate session, led by Hanshi Taylor. 35 people in total attended the day, a huge number, and we had to rotate in sessions on the mat, to make certain that we could all train. The day ended with an Iai grading, in which 13 people graded.
The following day we were up at 8:00am, packing and getting ready for Kyoshi Selvey's and Doshi Coxon's plunge into the void, or, in other words, meditating under a waterfall that ran down the mountains. At 10am they went under and incredibly both lasted a full five minutes under the freezing, pummelling water that crashed down on them from above. After a swift dry off and a change of clothes, we were motoring back to London with all the speed the minibus could give.
Many new friends were made on this trip, and the bonds of old friendships were renewed. It was a brilliant experience and we look forward to the next time.
Written by Alex Sangster-Jones, 3rd Kyu.